The Digital Signage Business Climate Index (DBCI) has been polled for the fifth time in 2014. Overall, the European markets are stimulated by good earnings and new orders. The business situation and expectations are on track and showcase their rising expectations for the end-of-year business after a slight downturn in the summer. All markets saw a clear year-on-year increase in revenues in the first six months of 2014 compared to the same period the previous year.
DACH region sees slight increase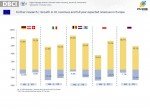 In DBCI´s core market, Germany, Austria and Switzerland, the business climate has increased slightly in September. Since the last survey in July 2014 the Digital Signage Business Climate Index has increased from 50,40 base points by 4,15 to 54,55 base points. New orders after the summer slump and the expectation of current tenders being awarded before the end of the year give the market the much needed boost.
OVAB Managing Board confirms the surveys results
OVAB Europe´s president Dirk Hülsermann comments on the survey´s results: "The digital signage market continues to develop very positively. The Digital-out-of-Home market is historically not the strongest in the summer months, but will develop better in the fourth quarter, because this is the most important time for OoH during the year. As in previous years, also in 2014 Digital-out-of-Home will continue with double-digit growth as the fastest growing digital media."
Also industry expert and OVAB treasurer Markus Deserno attests the high expectations: "In the Digital Signage business the competition particularly among the integrators saw an intensification since mid 2013. The fact that we registered a high demand from the customers in the first two quarters, which was however not followed up by actual orders, intensified this situation. This has changed now for the better and we have high hopes that many new tenders will be awarded before the end of the year."
Europe´s leading Digital Signage Business Climate Index thrives
In 2014 the DBCI coverage has grown far beyond the core market Germany, Austria and Switzerland. With regular polls in Benelux, Poland, Italy, Russia and Spain/Portugal, the DBCI expanded significantly across Europe. Additional markets – like France and Great Britain – will follow in 2015.
"We are more than proud to see how the leading Digital Signage Business Climate Index (DBCI) has evolved over the past two years," commented Florian Rotberg, CEO invidis consulting. "Till now we have executed over 5.000 surveys with a coverage of more than 75% of the relevant Digital Signage Market in EMEA."