The current business situation in Italy in September/October is lower positive. The index lost by 12,85 points yet still remains on the "slightly positive" level. In spite of a slight rise in the negative answers to 21%, the market still is by almost 80% satisfied or positive about their current business situation. After a period of slight upturn for the general economy in Italy, the negative results from the second quarter have dampened the business climate of the Italien and Digital Signage industry.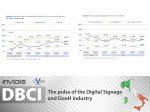 Further Research
The Digital Signage Market in Italy has registered robustly higher revenues in the first six months of 2014 compared to the same period in the previous year.
Moreover a clear year-on-year increase in revenues is expected for the full year 2014. Some market participants who suffered loses in the first six months predict to have contained them until the end of the year.
Here the full survey IT Sepember/October 2014 can be downloaded.