Joint projects of the cooperation are adding France as a new market of the OVAB Europe Digital Signage Business Climate Index (DBCI) and working on DBCI standards. The DBCI is the leading industry index in EMEA and is polled by invidis with the support of the European digital signage and digital out of home association OVAB as well as different cooperation partners.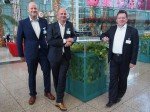 At the OVAB conference the Club du Digital Media and OVAB laid the foundation for a successful cooperation. The agreement was signed by Club de Digital Media Vice President Michel Baronnier (CEO TMM Communication) and OVAB Vice President Winnie Karst (Silverflow Media). The first DBCI survey in France is going to take place in November/December 2014.
Despite the currently difficult overall economic situation there is a good climate and order situation in the digital signage and digital out of home industry in France. In the future OVAB and the Club du Digital Media will provide experts discussions like standardization and research and thus deliver valuable industry insights.