The index stands at 41,70 base points. 90% of the polled companies are satisfied or rate their current business climate positive. In France, the digital signage and digital out of home market experienced a steady growth over the full year 2013 and a strong year-on-year showing of the first three quarters in 2014.
Cooperation with Club du Digital Media in the third largest market
France is the third largest market for digital signage in Europe. The first poll November/December 2014 has been supported by Club du Digital Media. The cooperation partner for France will also poll the next DBCI surveys with invidis and OVAB in the coming year.
With 55% more favorable expectations for the next six months the market participants in France are expecting a definite opportunity for their business in 2015. Particularly the demand for quality shop window signage in the retail sector can be satisfied with the now widely available sunlight readable displays.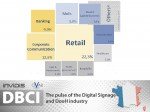 Retail is the most significant market for the digital signage industry
Retail is with approximately 22,3% of all digital signage revenues the biggest vertical market. Customer engagement, marketing and ambient installations become more and more common not only in most high-street retailers, but also in small and medium businesses. Important trends are the direct integration of signage in the shop furnishing and the high demand for shop window signage.
The corporate communication vertical market has grown exponentially over the last few years. The digitization of employee communications is now seen as a sustainable investment by many companies. Now networks with up to 300 displays will be more and more common.
Banking is the third biggest vertical market in France. The trend towards the digitalization of the communication in the local branches will lead to networks with up to 1.000 displays.
Here the survey can be downloaded in English (full report) and French (summary) language.