The Digital Signage Business Climate Index Russia has been polled for the fourth time in 2014. Since the last survey in September, the index has dropped dramatically from 28,85 by 51,59 base points to -22,74 base points.
The current business situation is still satisfactory, with the expectations for the next six months highly negative.
Amid the current volatile political situation and its economic consequences the digital signage market in Russia has a negative outlook on further growth potential for H1 2015.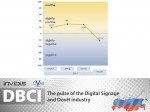 The tumbling currency exchange rate of the Ruble and a freeze in government financed projects has resulted in many tenders being put under revision or being postponed.
Further research
Falling hardware prices and availability of plug-and-play solutions resulted in a high demand for entry-level digital signage.
The Russian industry for digital OoH media favours the nomenclature "adscreen" for the media (57,9%). 31,6% of all polled companies are favoring the nomenclature "digital out of home" (DooH).
Here the survey can be downloaded in English (full report) and Russian (summary).