The Digital Signage Business Climate Index Spain & Portugal has been polled for the fourth time. The index has declined slightly to a positive level with an decrease of 7,11 base points to stand at 47,63 base points. The DBCI has stabilised on a high level and reflects the positive business sentiment of the digital signage industry in Spain and Portugal. The market participants are satisfied with the current business situation and have very positive expectations for the next six months.
High demand from the customer side, especially by blue chip companies has been driving the market in Spain and Portugal for the last year. The digital signage providers expect to convert the interest and realise many projects in 2015.
Further Research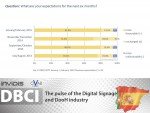 53,9 % of all companies in the digital signage market have hired new staff in the last year. In the year 2014 between 40 to 60 new jobs were created in the digital signage market in Spain and Portugal.
In the years after the crisis 2010, 2011 and 2012 many jobs were lost in the industry. However, with customer demand and the number of realised projects picking up in the last 12 months, the market participants need manpower to shoulder the workload.
As a whole there is a high demand for qualified personnel. Due to a growth strategy and re-structuring the demand for personnel on a management level with new qualifications is very high (e.g. key account and project manager). The increasing expansion in vertical markets leads to a demand for more professionals from different industry branches by digital signage companies.
Here the survey can be downloaded in English (full report) and Spanish (executive summary).