The Digital Signage Business Climate Index (DBCI) in Poland has increased since the last poll in November. The index grew from 22,75 base points by 9,10 points to 31,85 base points and remains on a "slightly positive" level. The market participants are currently highly satisfied with the business situation, as over 63 % of the polled companies have stated. The digital signage market in Poland has also an increasingly positive outlook for the next six months and expects a good summer for the industry and the market seeing small but continouse growth.
Further Research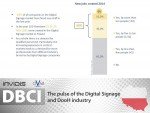 40 % of all companies in the digital signage market have hired new staff in 2014. In the year 2014 between 15 to 25 new jobs were created in the digital signage market in Poland. As a whole there is a demand for qualified personnel. Particularly, the increasing expansion in vertical markets leads to a demand for more professionals from different industry branches by digital signage companies.
In 2015 retail (POS) will again give an important impulse to the market. "Smart" solutions and the keywords omni-channel & mobile integration, interactivity and outdoor/high brightness will further stay in the focus. Moreover entry level products (e.g. hardened consumer TVs, Android based players etc.) catering the small and medium business market will have a strong impact on revenues.
Here the full survey Poland January/February 2015 can be downloaded.