The Digital Signage Business Climate Index Russia has been polled for the fifth time in Russia. Since the last survey in November, the index has dropped further from -22,75 by 10,59 base points to reach -33,33 base points. Only little more than half of the market still sees the current business situation as satisfactory. While the outlook for the next six months has slightly recovered since the last survey.
After a good start in 2014, at least since the third quarter of the year, the volatile political situation and its economic consequences had a clear negative impact on the Digital Signage market in Russia. Particularly the tumbling currency exchange rate of the Ruble and a freeze in government financed projects has resulted in many tenders being put under revision or postponed.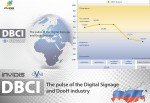 The industry has also a negative outlook on the growth potential for 2015. Further planned investments will be put on hold and the competition for the remaining business will markedly intensify.
Further research
40 % of all companies in the Digital Signage Market have hired new staff in the last year. In the year 2014 between 30 to 40 new jobs were created in the Digital Signage market in Russia.The comparably low growth year 2014 in the Russian Digital Signage market and the difficult economic situation is also reflected in the number of new openings created.
The high customer demand and a growing number of projects in the first semester of 2014 led many companies to hire new employees. By the end of the year most of that projects were put on hold and job cuts will be eminent in the first two quarters of 2015.
Here the survey can be downloaded in English (full report) and Russian (summary).