The Digital Signage Business Climate Index (DBCI) in Poland grew from 31,85 base points by 14,30 points to 46,15 base points and reached an all-time high. The market participants are currently highly satisfied or better with the business situation, as over 90 % of the polled companies have stated. The relatively disappointing year 2014 with a slightly contacting market is over and fresh budgets make new IT investments viable. The digital signage market in Poland has also an increasingly positive outlook for the next six months.
The SMB sector drives digital signage revenues in 2014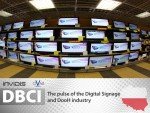 The market participants have again underlined the high importance of the SMB (small and medium businesses) market for digital signage, with three quarters of all revenues being generated in this sector. 80 % of all digital signage projects in 2014 were small and medium installations with up to 50 displays. Falling hardware prices created a high demand for easy-to-use digital signage solutions.
Clear growth for DooH expected for the next 36 months
The market participants see a clear growth potential in DooH. They expect that the market share of DooH within out of home will reach between 10 % and 20 % by 2018. On one hand most growth will be achieved by bundling DooH with other digital media. On the other hand many market participants also see good potential for the installation of new and the expansion of existing networks.
Here the full survey Poland March/April 2015 can be downloaded.