The current business sentiment has increased marginally with a change of only 0,35 base points in the positive direction since the last survey in January 2015. The optimism towards the near future has grown stronger than the index in the first quarter of 2015.
In spite of geopolitical insecurity the economy in the German speaking region remains robust. Particularly in Germany the IT industry is doing well, as over 80 % of all IT budgets remain stable or will be growing in 2015 (source: Capgemini).
DE-AT-CH region on stable positive level in the first quarter 2015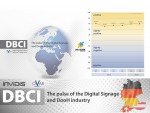 Since the last survey the business climate in the German digital signage market has increased slightly. The DBCI develops in line with other business climate indices like the ifo or ZEW. ZEW President Professor Clemens Fuest states: "Economic sentiment in Germany remains at a high level. In particular, the continuing positive development of the domestic economy confirms the expectations of the experts. At the same time, limited progress is being made with regard to solving the Ukraine conflict and the sovereign debt crisis in Greece. This has a dampening effect on sentiment."
In Switzerland the business climate in the digital signage market has also increased slightly. The Swiss economic outlook has partially improved again after the EUR/CHF exchange rate seems to have leveled off.
In Austria the business climate in the digital signage market has seen a correction after the unusually sharp increase in January. In spite of the general economy in Austria, which will see only low growth and a further rising unemployment rate in 2015, the IT industry has a positive outlook.
Consolidation dominates display industry in 2014
The business sentiment of the display vendors has remained flat since the last survey. While expectations for the next six months have again declined, they still remain strong, as 60 % of the market expects a more favorable outlook. The year 2014 had been rather quiet for the big three display vendors Samsung, NEC and LG. With a market share of approximately two-thirds they clearly dominate the overall market which has grown in the low double-digit region.
System integrators have a consistent positive view of the market as over 90 % of all surveyed companies record a constant or growing demand. However, almost half of the market participants see no immediate rise in exceptional demand in the near future.
The business climate for software vendors has increased to a very high level. The software industry has also a very positive outlook, as over 70 % of the market expects even more favorable business in the second and third quarter of 2015.
The DooH industry records a slightly declined current business sentiment. The exceptional growth rate of Q4/2014 – the fourth quarter historically always records most demand – could not be transferred to 2015. However, the market participants expect a very good summer with almost 60 % expecting more favorable business conditions.
The full survey of March/April 2015 can be downloaded here.