Three quarters of all digital signage projects in 2014 were small and medium installations with up to 50 displays. Smaller projects have a higher margin and can be carried out successfully by most players in the market. Only 12 % digital signage networks are larger than 100 displays. Falling hardware prices created a high demand for easy-to-use digital signage solutions in the SMB sector. Large projects generate high revenues, but discounts increase with the number of hardware used and tear into the margin. Moreover, only few market participants can sustainably carry out projects with over 100 displays.
Retail remains top, strong demand for Corporate Communications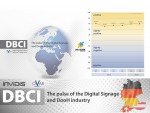 Retail is with approximately one quarter of all digital signage revenues the biggest vertical market. Customer engagement, marketing and ambient installations become more and more common not only in most high-street retailers, but also in small and medium businesses. Important trends are full integration of signage by shop fitters and the high demand for shop window signage.
The corporate communication vertical market has grown exponentially over the last few years. Alone since 2013 its market share has risen by 5 %. With rising IT budgets, the digitization of employee communications is now seen as a sustainable investment by many companies.
Banking is the third biggest vertical market. The trend towards the digitalization of the communication in the local branches will lead to networks with up to 1.000 displays. Particularly in Switzerland this trend has already resulted in a high digital signage penetration.
Clear growth for DooH expected for the next 36 months
The market participants see a clear growth potential in DooH. They expect that the market share of DooH within Out of Home will reach between 15 % and 20 % by 2018. On the one hand most growth will be achieved by consolidating and expanding existing networks and by bundling DooH with other digital media. On the other hand most market participants see no high potential for the installation of new networks.
The full survey of March/April 2015 can be downloaded here.