Uncontrolled growth in the Post-Soviet-times brought numerous outdoor faces like LED Boards along major roads and in the vicinity of highly frequented road crossings of Moscow. Many of the billboards were mounted on top of historical buildings, covering the line of sight to the Red Square, Parliament or Bolshoi Theater. Dozens of high brightness LED boards and illuminated rooftop logos were shining along the Moskva River on top of buildings.
Now a considerable part of these LED-outdoor signs have vanished, structures and foundations have been removed. A few have just been taken offline and are awaiting the same fate. Moscow in May 2014 has changed to the better and more beautiful location. Even tripadvisor ranks the Russian capital still as one of the world's worst travel destination (Moscow Ranks Near Bottom in TripAdvisor Cities Survey)
Despite removing up to half of all billboard locations new digital advertising faces have been installed in the market. This time better integrated in the cityscape mostly as media facades instead of fitted on top of the roof. Attached to existing building the new digital out of home media offerings appeal simultaneously to government, inhabitants and the advertising industry. In 2013 Moscow's Media and Advertisement Department auctioned advertising rights for approximately 12.000 billboards for USD 2.3bn.
One of the newest installation is an almost 2000m² large installation right on Arbatskaya square in down town Moscow. The media façade by Leurocom offers a resolutions of 1418 x 680 Pixel and measures 78m x 24m.
Another example is a media façade of RusHydro on Leningradprospekt – one of the major radial roads and major ring road junction. The media façade is attached to the HQ of RusHydro. An existing LED-Board and LED-logo was dismantled and replaced by Europe's largest LED advertising face.
In addition Moscow City government awarded the Metro DooH-advertising rights to GEMA but the project seems to be halted. At selected metro stations  NEC Displays have been installed on top of poles on the center of platforms and a few mounted to walls at staircases. But the network seems to have only a few ad bookings. The most prominent being the Google advertisement for Google Play.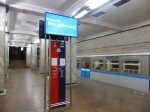 By radically reducing out of home locations and slightly licensing new digital high-quality locations, Moscow's out-of-home market has benefitted largely. Even today's Metro-Network is still missing the necessary number of locations the upside potential is enormous. More than 8 million passengers use the Metro daily – that's sufficient frequency for DooH.