Any form of signage beyond the main roads is mostly unheard of. And not only in the middle of nowhere, but it is also a challenge to find proper signage on smaller roads in Dubai or Riyadh. But there is a solution at the horizon. At Gitex 2014 the municipality of Riyadh in Saudi Arabia presented their new signage solution.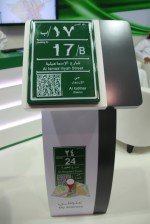 The signs are not only in Arabic as well as Roman letters, but they also feature a QR-Code. So it becomes very easy to send the exact location to visitors upfront or to find your way around when you got lost in the sprawling capital of the Kingdom of Saudi Arabia.
Besides street signs Riyadh is one the hottest place to be in the GCC. The kingdom produces more than 60% of the region's GDP. A completely new metro systems is currently build with exceptionally outstanding architecture.
The second largest city Jeddah located at the Red Sea will be home to the tallest building of the world once the Kingdom tower has been finished. The skyscraper will be approximately a kilometer high beating the incumbent record holder Dubai's Burj Khalifa.