But Google Maps, Street-View or most other web-based services offered by Google are mainly tailoring the consumer market. They are free to use as long as Google can display advertising around it. Selected applications are also available for B2B use i.e. license fees of 10k and above. Unfortunately most small businesses incorporating google solutions into their products seem to ignore the necessary license requirements. It is just too tempting.
But besides legal usage of Google services another issue comes up very often. Google renews existing maps and street views at their own discretion – anywhere between one to three years. That can obviously not be sufficient for way guiding applications. So Munich Airport's innovation department decided to go their own way by teaming up with a local university spin-off and developed their own Google-like solution.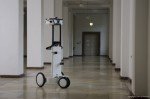 Navvis developed their own 3D mapping equipment, trolley and service inferior in many ways to Google Street View. The airport authority purchased their own trolley and are now able to digitize any indoor location at any time. Interesting enough the main purpose of the data will not only be way guiding but also supporting remote maintenance. Ongoing constructions or technical installations can very easily digitized offering a wealth of information (current maps, photos and 3D mappings). In fact service crews are now able to visually inspect technical installations or construction areas from remote, evaluating and even remotely fixing selected faults.
In addition to current data the airport also owns all data compared to Street View, where Google decides about the use of information. The Navvis solution doesn't require any locally installed infrastructure as Wifi, Bluetooth or other location based transmitters. The trolley maps an environment by using laser scanners. At the same time, cameras generate a dense network of high definition 360-degree photographs of the entire interior space. A browser-based Indoor Viewer offers virtual walkthroughs, way guiding, and interaction with popular Point of Interest features (e.g. video or audio data) as well as precise point-to-point measurements. The next generation of Navvis will also enable navigation of indoor spaces via smartphone (turn-by-turn). Navvis showcases the capability of the solution in a publicly available insight view of Munich's Deutsches Museum maritime exhibition.
This is not the first time Munich airport has adapted consumer technology to an airport relevant solution. Infogate totems offer video-based interaction with airport information staff across multiple touch points. The development was inspired by Skype and other video communication tools popular in the consumer space.
Munich Airport is also home to our annual digital signage conference. For the ninth year invidis brings together opinion leaders, vendors, systems integrators and customers to Munich Airport for the OVAB Digital Signage Conference. Starting 2015 invidis has joined forces with ISE to organize Europe's leading industry summit (10-11 September 2015 at the Hilton Hotel Munich Airport – formerly Kempinski Hotel).