With the first Crossrail services due to open in May 2015, the new high capacity rail service for London and the South East represents a slew of new opportunities for advertisers.
Tfl's plans to maximise its enhanced station portfolio for brands are set out on Tuesday, May 19th when more than 200 industry leaders convene for The DailyDOOH Media Summit, the UK's annual digital outdoor conference. The DailyDOOH Media Summit takes place as part of London Digital Signage Week in The David Lean Room, BAFTA, 195 Piccadilly, London W1J 9LN.
Please click here for more detailed information.
Keynote speakers at the conference include John Pizzamiglio, Lead for Advertising Strategy Commercial Development Directorate, Transport for London, who will outline the opportunities for advertisers as new stations open across the Capital and South East.
"Crossrail presents a slew of new environments,"said Pizzamiglio. "With a growing, socially active, affluent audience, TfL's approach to new contracts in 2016 is one that enables a wide variety of future developments."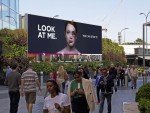 DailyDOOH editor-in-chief Adrian Cotterill, who chairs the summit, said: "The role of digital outdoor advertising in the evolution of London and other global cities is one of investment, opportunity and incredibly tough competition.
"The complexities for cities, property owners, transport and retail hubs in maximising technology to meet the expectations of a growing socially active, mobile driven digital savvy audience are considerable. The sheer pace and scale of change not just here in the UK but in the US, EMEA and Asia will be a key focus of this event."
The conference draws together key stakeholders across media, transport, retail, research and development, featuring 13 speakers and guest contributors who will consider:
The changing relationship between and the UK creative and specialist sectors and the emerging commercial opportunities for content distribution and production.
How brands are innovating across platforms and the impact on the market; next steps to improve the consumer offer through different channels, personalisation and technical capability; and emerging opportunities for amplification across all screens.
Key challenges and priorities for the advertising industry, with discussion around terms of trade, platform access, data and policy.
Ten different sessions will feature Exterion CEO Shaun Gregory; Joe Clark from Dunhumby; Neuro-Insight founder Heather Andrew; and Sarah Speake, Clear Channel UK.
DailyDOOH Media Summit Agenda
08.45 REGISTRATION & BREAKFAST
09.30 Welcome
09.40 How Out-of-Home Can Change People's Lives and Consumer Habits | Shaun Gregory | Exterion Media in conversation with Chair Adrian J Cotterill
10.10 It's Big and it's Clever: Delivering Innovation at Scale | Neil Morris | Grand Visual
10:40 Why we Love Digital Outdoor | TBA | MAJOR BRAND
11:10 Coffee
11:30 Beyond Out of Home | Heather Andrew | CEO | Neuro-Insight (UK) Ltd
12:00 Taking Big Data To Market | Kate Fitzgerald | Head of Media Propositions – Tesco Markets | Dunnhumby and Joe Clark | Head of Integrated Media | Dunnhumby
12:30 Designing a Space with Retail and Advertising in Mind | Ben Green | Head of Retail & Innovation (Interim) | The Manchester Airports Group (MAG)
13.00 LUNCH
14:00 Kaan Akin (CEO and Founder of Sistem 9 Medya) and Sikander Ahmed (Partner NBK Capital in Conversation with Steve Nesbit
14:30 The end of the beginning for DOOH | Richard Blackburn | Commercial Director | MediaCo Outdoor
15:00 Why we Love Digital Outdoor | TBA | MAJOR BRAND
15.30 TEA/COFFEE
15:45 Lessons from a former Google Marketing Executive | Sarah Speake | Chief Marketing Officer | Clear Channel UK
16:15 TfL and DOOH – Why Every Journey Matters | John Pizzamiglio | Lead for Advertising Strategy Commercial Development Directorate | Transport for London
16.45 Closing Remarks | Adrian J Cotterill | Editor-in-Chief | DailyDOOH
17:00 CLOSE
To view the agenda in great detail please click here.
Please click here to read an article on London Digital Signage Week.