While waiting for a meeting I was invited to test drive the globe's most advanced airport rescue and fire vehicle. Sort of at least. Rosenbauer – the Mercedes in fire and rescue vehicles – presented at this year's Interschutz the fourth generation of its Panther Airport Fire vehicle. More than 1.400 Panthers are currently in operation at airports around the globe. Two of its newest generation are currently on display at the Interschutz show in Hanover. Amazing piece of technology for office "hero" like me.
Rosenbauer has also brought a Panther Simulator to Interschutz. Even it is based on the 3rd generation getting behind the wheel of a vehicle like this is amazing. The simulator isn't as fancy as aircraft Sims which are based on various hydraulic legs. But fitted with a 180+° projection, displays replacing rearview mirrors and plenty of bass from an integrated sound systems offers a next-to-real operation experience.
The simulators are designed and oparated by Dutch ETC Simulation and taking a seat inside such a vehicle is amazing. Simulation and training of rescue operations in an airport environment isn't possible in real life. So Sims are the next best thing and an amazing experience.
Coming back to digital signage – invidis will present various aiport projects at the 9th OVAB Digital Signage Summit Europe 2015. Professional displays, retail technology as well as cutting edge IT-solutions are bringing new engaging projects to airports across EMEA.
Rosenbauer presents dozens of vehicles. We took a closer look at solutions beyond ladder trucks and rescue vehicles. The Austrian market leader see themselves as a full solution provider including personal protective gear and digital solutions. The fire fighter of today can rely on various supporting technologies from heat-detection equipment built into the visor of the helmet, ruggedized tablets for operation relevant information all the way to wearables like Google Glass.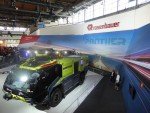 Operating all these devices – from 60 ton trucks to handheld devices – is a challenge. Especially in tension rescue operations. Rosenbauer uses a common user interface across all machines offering a seamless user experience. The dashboards, buttons and operations concepts follow all the same concept. Offering a whole eco system has its advantageous – something the retail and digital signage industry is still working on.