Elevision is specialized in broadcasting news, information and advertisements inside elevators of premium commercial and residential properties in the UAE.
Working with German system integrator MuSe, Elevision has installed more than 400 Scala digital signage players in lifts across Dubai and Abu Dhabi. The Elevison media network includes premium properties such as JBR, DIFC and Emaar Downtown.
The Digital-Out-Of-Home network display content such as the weather, time zones and local news. Elevision benefits from the meta-tagging features of the Scala software, allowing the network to segment and update content much faster and more efficiently across a all screen cluster.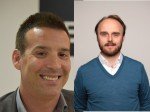 MuSe's Managing Director Marco Burkhardtsmayer points out that the concept of the solution was aimed at improving uptime. The Scala solution replaced another solution, which experienced a lot of down-time and lacked international technical support. "The Scala solution we installed has brought down the failure rate of the Elevision network from 4% to less than 1%," he commented to invids. "Our client also mentioned that it now takes 25% less time to maintain the system than was previously needed."