Way-Guiding and information demand is huge at trade shows and varies a lot depending from the background of visitors. As Gitex/Infocomm MEA receive visitors not only from the Middle East and North Africa but also from India, China and Europe, signage needs to adapt.
The newest digital signage infrastructure addition includes totems installed next to escalators in addition to the various video walls in place already for a few years (invidis report). The totem design sports a distinct Arabian touch with a polished metal surface and ornaments.Unfortunately the content features just plain DWTC information and not dedicated to the ongoing show.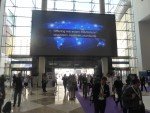 A new LED fine pitch wall seems also be added to the portfolio on the inside of the main gallery replacing an older and smaller LED wall. This media wall features Gitex relevant advertising at one of the most prominent spaces at DWTC.