The 120" monster display was the star at Sharp's booth – size matters especially in the Middle East. Details of when the new product will be commercially available have not been released. But with 120" diameter the display can replace a 2×2 video wall. This becomes a valuable benefit in conference room setups, where even the slimmest bezel disturbs Excel or Powerpoint.
Retail loves large video walls but the premium for 120" displays instead of a video wall will be too high after launch. As prices drop ultra large displays become more attractive for premium retail projects.
The question comes up if 120" will be limit for display sizes. Technological larger formats will be possible to produce in future generation fabs. But the limit seems to be transportation and doors in Malls and regular outlets. Swab of displays need to be possible without taking down a wall. We believe for the foreseeable future 120" will a reasonable limit. But that won't stop Korean or Japanese display manufactures to present even larger display maybe already at ISE 2016.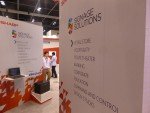 All trade visitors of this year's combined Gitex/Infocomm show will have experienced Ultra HD before. Some of them even 8k. But for the majority 8k resolution evoked the same reaction "sharper than real".
On the software side Sharp presented for the first time the new eco-systems partner Easescreen. The Austrian digital signage software maker is a well experienced specialist and complements Sharp's eco system in the Middle East.