The search for right location with the best visibility is an unfinished challenge in most airports. Airport operators strive for optimum way-guiding signage putting flight information and directions on first priority. This is followed by driving passenger flows through/along retail and hospitality outlets. Third priority is given to advertising spaces. Usually retail and advertising are operated by external partner like HMS Host or Autogrill (both hospitality) or advertising groups like JC Decaux or Clear Channel.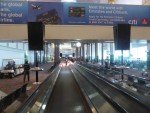 Unlike most other airports Munich keeps media sales in their own hands. The German airport operator manages also most of the retail and hospitality outlets as well as advertising. Most likely Munich keeps everything in one hand with the goal to achieve the best balance of business case and passenger experience.
MUC has been quite conservative with establishing digital advertising faces in the existing terminals of Europe's seventh largest airport. But changes are ahead with the opening of a new satellite terminal in spring 2016. MUC took the opportunity to integrate all digital advertising assets into the interior design – a rare chance for e media owner to be included in the planning process from day one. The new digital faces are integrated in walls, around corners and other locations along the most frequented passage ways.
The standard digital face is a 3×2 video wall displays 60" – a second aspect ratio is a 2×2 wall as an addition to the 3×2 wall as warp around. This enables media buyers to create only one maximum two sets of creatives for each campaign. Many airports or shopping malls tend to install various forms of aspect ratio and orientation – making it very expensive for advertisers to adapt campaigns. In the past costs for adapting campaigns often exceeded media costs – one of the reasons why digital out of home has such a hard time to gain market share.
In total MUC airport installed 150 professional large format video wall displays 60". With 21 dedicated digital out of home faces across two levels (Schengen / Non-Schengen) Munich prefers large video walls over an array of single displays. Out of Home media owner like JC Decaux prefer networks of single displays as it mirrors the long established networks of static city light posters (MUPIs, six sheets).
Munich integrated all static (light boxes) as well as digital faces into the walls of the satellite terminal. This ensures that FIDS and other way-guiding signage will not be blocked by advertising.
Access Schengen (Level04)
Walkway Schengen (level 04)

3 x Standard (3×2)
4 x Warp Around including Standard (3×2) and a Cube (2×2)

Gate Schengen (Level 04)
Gates Non-Schengen (Level 05)

3x Standard (3×2)
2 x Warp Around including Standard (3×2) and a Cube (2×2)