There are many reasons to adapt: changing customer expectations, market players entering or leaving, new disrupting technologies. In the Digital Signage industry, all this and more has been true since its beginnings. The value chain is always affected by these influences.
A few years later, it was the software providers who came into focus: "What's the best software?" was a classic question put forward by interested customers. Many of them used to think that software had to be looked at and bought separately. But that has changed: the more complex – or networked – the projects become, the more important it is to have end-to-end providers.
With the increasing presence of IT solutions and cloud services, Digital Signage also ushered in the era of integrators. They were (and still are) the go-to people of the customers: they choose a fitting supplier to integrate, install and operate the hardware. The solution now focuses on a software-based platform that you can't buy off the shelf. If it was left to the customer, they would be simply overwhelmed to find the right software. She has lost her former silo role and increasingly has to take over networking with other systems. For this reason, the connection between system integrator and software is an essential one.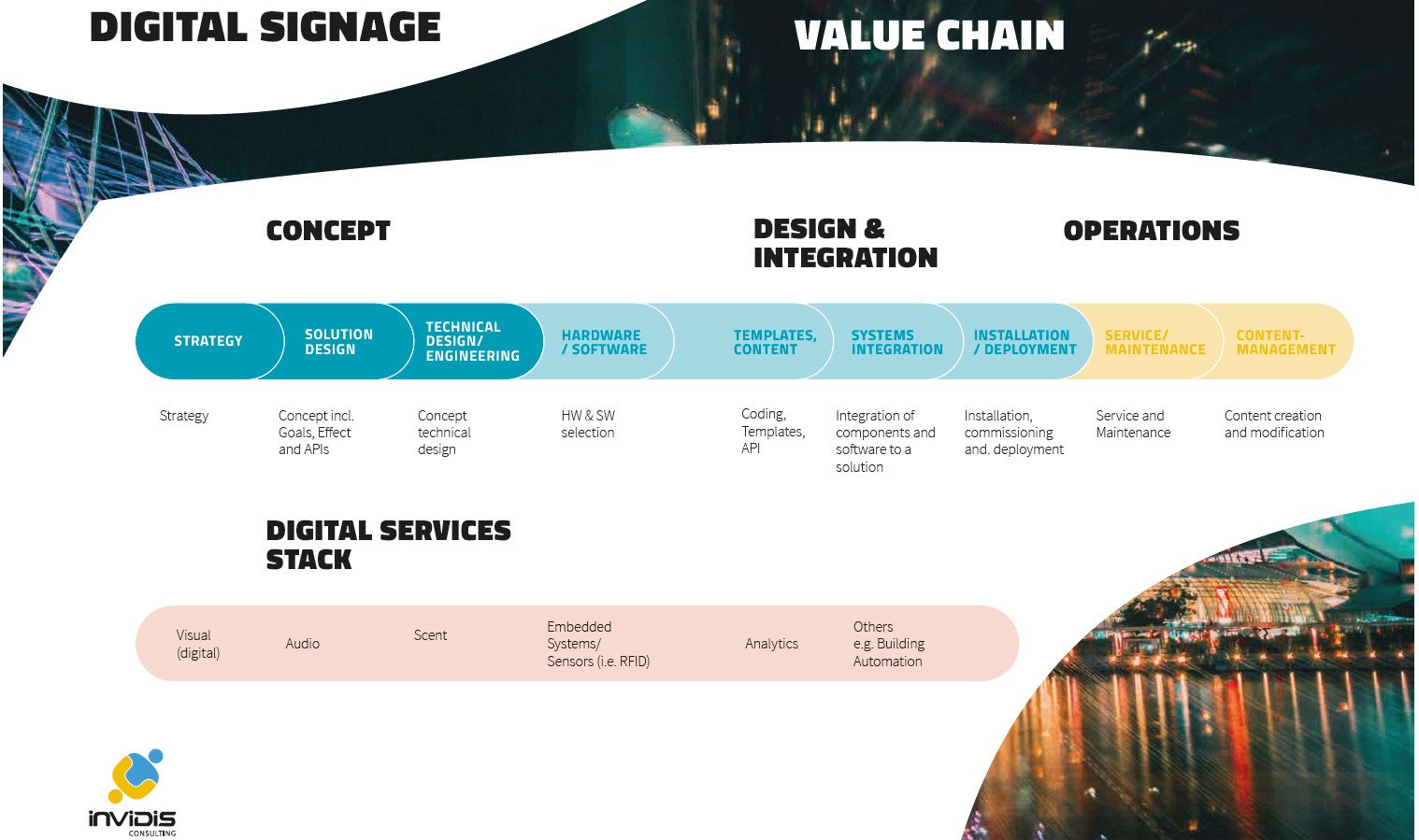 System integrators need to master a variety of project complexities, from simple signage (highly standardised) to immersive 360-degree installations. This breath of possibility requires a great deal of experience with the Digital Signage software platforms used to master the special challenges of Digital Signage software. In contrast to most other digital media such as online or TV, the responsibility of system integrators in Digital Signage projects includes both the output and the playback platform on site. Thousands of media players and displays need to be programmed and controlled.
The demands of digital touch-points in retail have changed significantly. While digital elements were previously added to existing store concepts, today a complete integration of digital elements has become standard practice. The effect and the benefits at the point of sale depend on the interaction of hardware integration and content. Unlike web or mobile, content must be tailored to the immediate environment surrounding the digital display.
The size and spread of projects are also changing. While small regional pilots were initially the norm, large international projects are now standard practice – bringing with them completely new requirements for system integrators.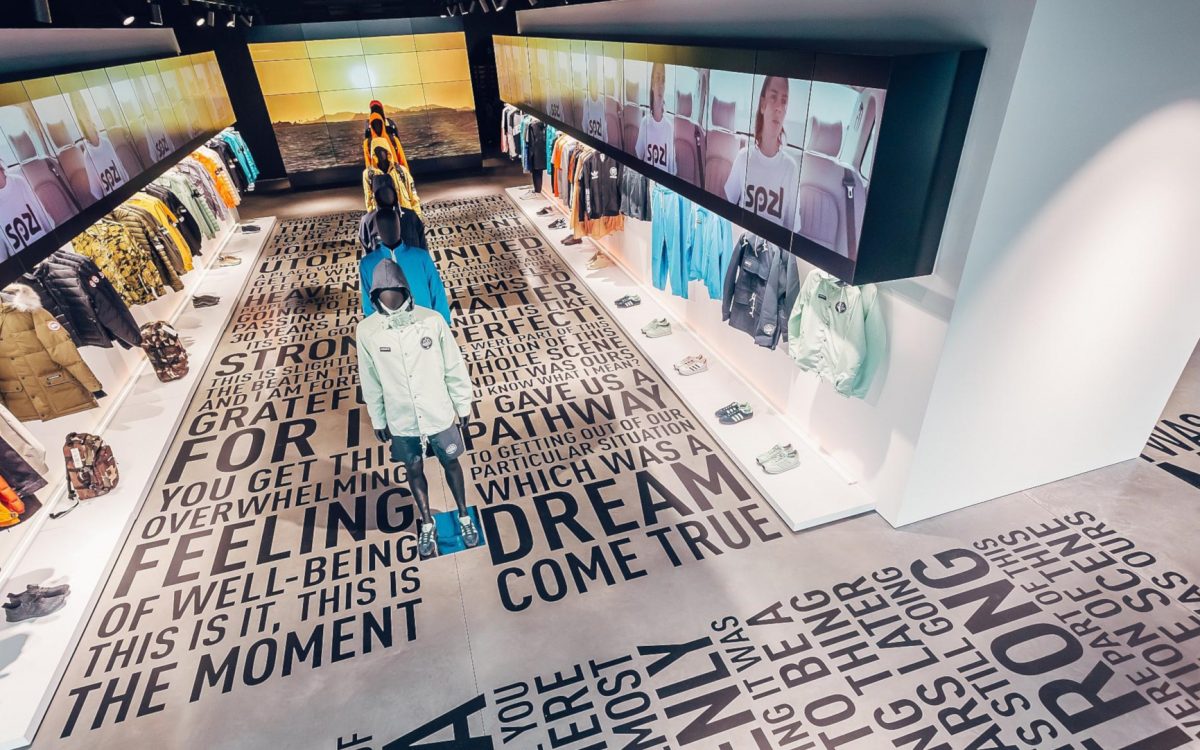 As a rule, global rollouts can only be realised with international partnerships, despite the fact that there are only a few specialised Digital Signage providers who are able to handle the logistics and financing of worldwide projects with their own resources. Here, large IT systems houses are increasingly coming into play, and as a result bring a number of strengths such as logistics, installation and technical operations to the table. Even with first hand support – which is often required 24/7 in several languages – smaller providers simply can't keep up. Global suppliers, on the contrary, score with high economies of scale and support centres at low-cost locations.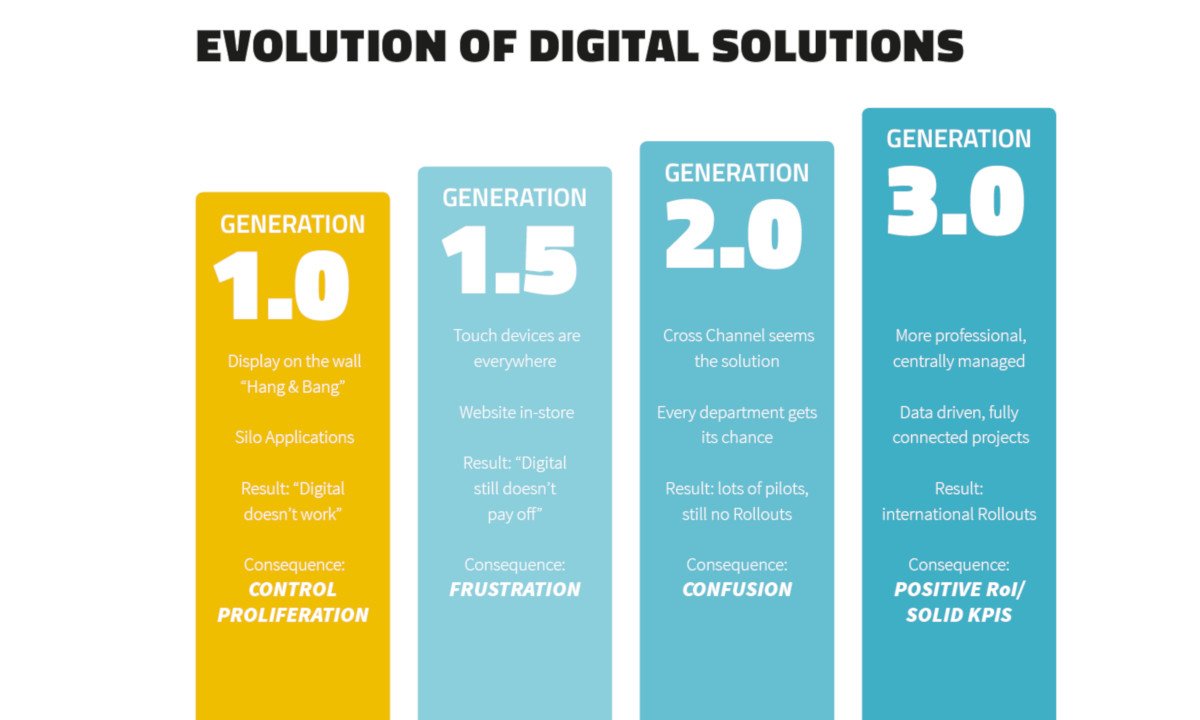 Digital Signage wouldn't be nearly as complex if content design and production didn't play such a fundamental role in its success. Simply put, this is a specialist area that remains something of a mystery for large IT firms and is generally too expensive for agency groups and consulting firms. While technical platforms remain relatively easy to exchange, concept and content competence – as well as the understanding of the content of customer needs – are without doubt the key to successful projects.
Measurability is also beginning to play an increasingly important role. In addition to providing unique design concepts and experiences, customers expect Digital Signage providers to secure a return on investment (ROI). This needs to be measurable and can be proven with business insights / analytics.
The ideal Digital Signage partner is more than a mere service provider. It should serve as a kind of sparring partner to the customer, who can optimise Digital Signage experiences through continuous feedback. Successful integrator-customer relationships are often characterised by the fact that Digital Signage providers are increasingly becoming partners who develop a deep understanding of the customer's business models. In the end, the integrator becomes something of a trusted advisor.