OVAB Europe Digital Signage Business Climate Index
DBCI – EMEA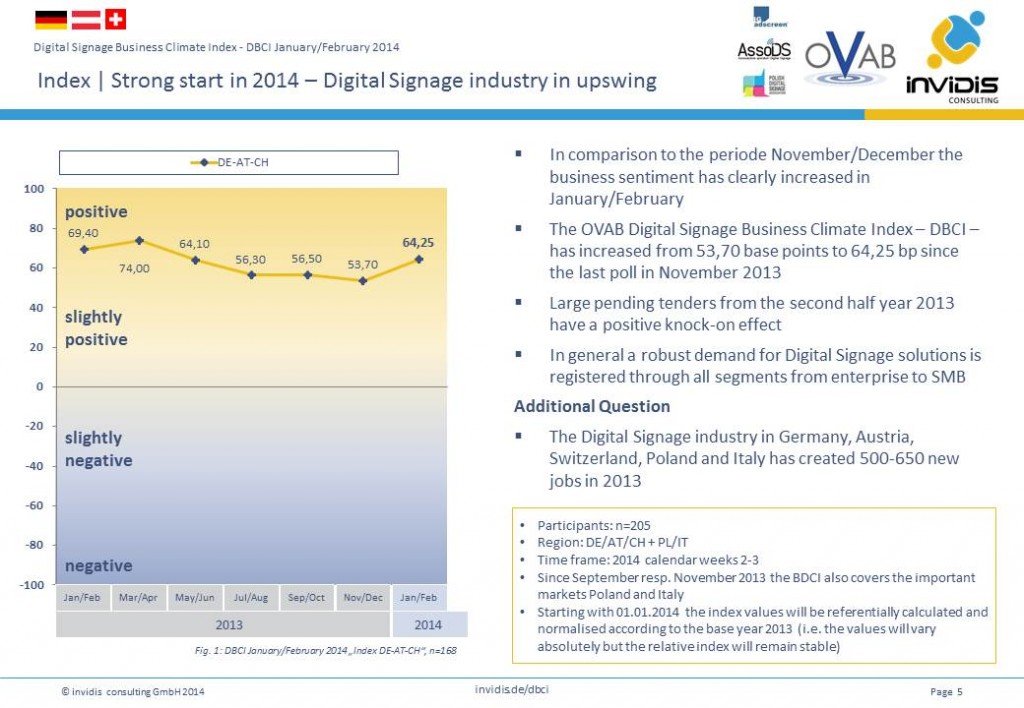 The DBCI or OVAB Europe Digital Signage Business Climate Index is a widely observed early indicator for economic development in the Digital Signage and Digital-out-of-Home industry of the EMEA market region. The DBCI is published bi-monthly. It is based on the responses of the high level management from all relevant companies in the Digital Signage value chain.
The aim of the index is to give the market participants and analysts an early indicator for upcoming demand for digital signage solutuons and DooH services. Every issue includes  additional questions covering current topics and trends. The DBCI brings transparency in a fast growing and dynamic market.
The index is managed by invidis consulting GmbH Munich for OVAB Europe. Participation in the poll is by invitation only and the participants are asked two basic questions about their current business situation and their expectations for the upcoming six months. For every question there are three possible answers defining if the business situation is "good", "neutral" or "poor" respectively if the expectations are for a "more favourable", unchanged" or "more unfavourable" business situation within the next six months. The results for good and poor are then balanced and a geometrical mean is calculated. This is the basic index value. It can vary between -100 for a very poor business situation and +100 for a very good business situation. The last year saw the DBCI scoring a consistent rating higher than +50, meaning that a very positive business sentiment is currently existing among the market participants in the Digital Signage industry.
Companies interested in joining the bi-monthly DBCI poll can register for the next survey with Daniel Russell (daniel.russell@invidis.com).
Germany/Austria/Switzerland (DACH)
OVAB Europe Digital Signage Business Climate Index DE/AT/CH
January-February 2014
– Strong start in 2014 – Digital Signage industry in upswing –Download here
OVAB Europe Digital Signage Business Climate Index DE/AT/CH
November-December 2013
– Clear slow-down at the end of the year – fresh start in 2014 expected –Download here
OVAB Europe Digital Signage Business Climate Index DE/AT/CH
September-October 2013
– Slight slow-down in autumn – strong end-of-year business expected –Download here
OVAB Europe Digital Signage Business Climate Index DE/AT/CH
July-August 2013
– Ongoing positive business sentiment –Download here
OVAB Europe Digital Signage Business Climate Index DE/AT/CH
May-June 2013
– Good business sentiment in May – stable expectations for the next 6 months –Download here
OVAB Europe Digital Signage Business Climate Index DE/AT/CH
March-April 2013
– Successful first months in 2013 – the Digital Signage market grows further –Download here
OVAB Europe Digital Signage Business Climate Index DE/AT/CH
January-February 2013
– The Digital Signage industry expects a very good year in 2013 –Download here
Poland
OVAB Europe Digital Signage Business Climate Index PL
January-February 2014
– Clear upswing in the Digital Signage industry forecasted for 2014 –Download here
Italy
OVAB Europe Digital Signage Business Climate Index IT
January-February 2014
– Improved business situation – conservative expectations –Download here
OVAB Europe Digital Signage Business Climate Index IT
November-December 2013
– Improved business situation – good expectations for 2014 –Download here
OVAB Europe Digital Signage Business Climate Index IT
September-October 2013
– Poor current business situation – high expectations for the future –Download here